Watts kicked off World Water Day once again by bringing clean water to a village in need.
Working through the Planet Water Foundation's Project 24, Watts volunteers installed an AquaTower water filtration system on the grounds of the Pantay Elementary School in Pantay Matanda Village, the Philippines.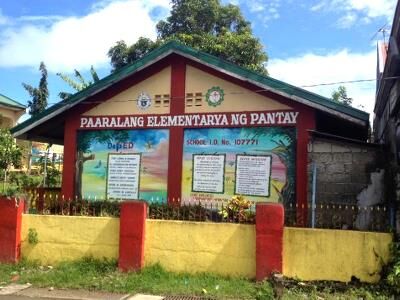 The school was in desperate need of clean water.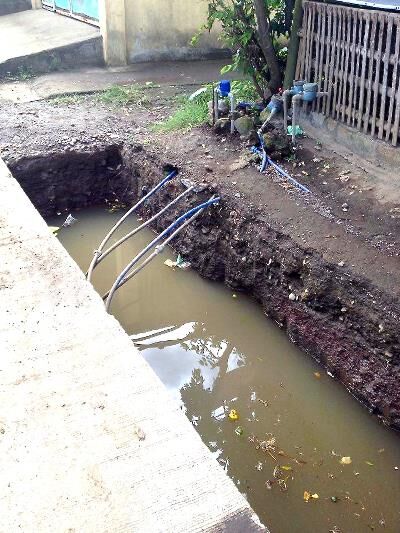 Although the project was months in the planning, the AquaTower was assembled and erected in just one day by Watts employees from the Asia-Pacific region Echo Zhang, Human Resources Supervisor; Hanks Lin, Lean Supervisor; Ryan Oh, Sales Director for Southeast Asia; and Watts customers, all of whom volunteered their time and efforts for this worthy cause.
Echo describes the day:
"My colleagues and I made the trip from Shanghai to Pantay Matanda Village in the rural village of Pantay Matanda in the Philippines.
An Enthusiastic Welcome
"When we entered the Pantay Elementary's gate, the school's 577 students and 14 teachers were all waiting for us and gave us a warm welcome with very enthusiastic applause. Some of the students rushed up to us and hung ribbons with yellow rosette badges around our necks.
"The students went back to their classrooms, and our team went to work putting together and erecting the filtration tower and connecting it to the water supply.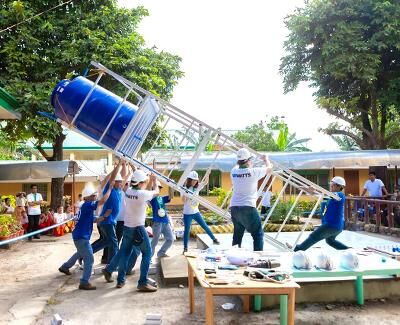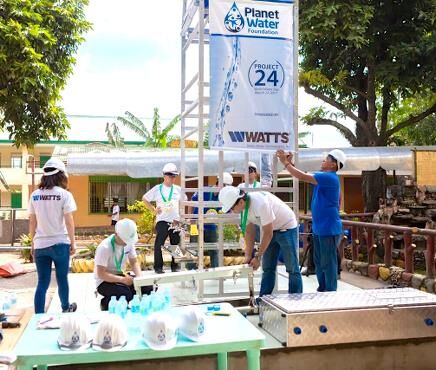 "But our job did not end there."
Teaching about Hygiene
"Next we visited the classrooms and taught the children and teachers a hygiene education program created by Planet Water.
"The program includes four modules designed to be taught over four weeks. We taught the first module, a happy and lively activity that required the students to paint pictures of germs and to play a game in which they pretended to be germs.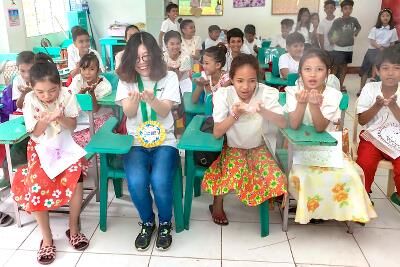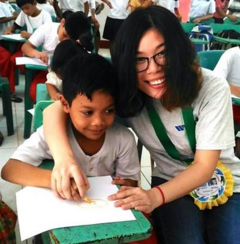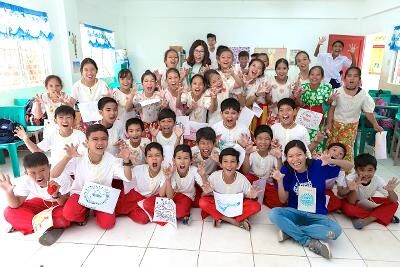 And We Turn the Water On!
"Then we all gathered at the AquaTower and turned the water on. The children excitedly drank the clean water and washed their hands.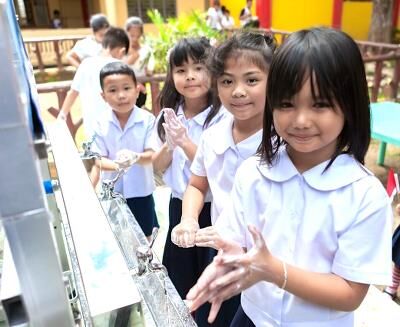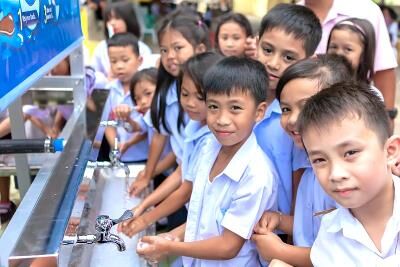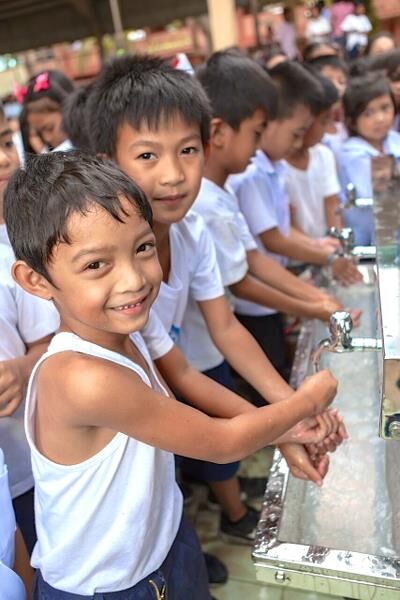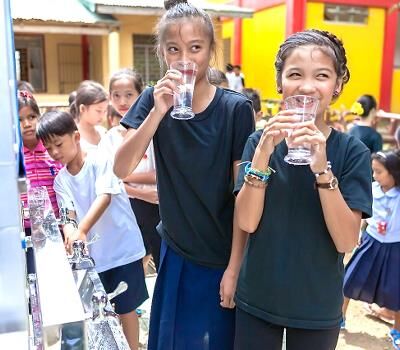 The School Thanks Us
"After the AquaTower unveiling, the school held a very formal ceremony to thank us. During the ceremony, students performed a local Filipino folk dance. They were so talented and very excited to show their confidence and energy. We were all very touched."
Installation Is Life-Changing
The installation forever changed the lives of 1,000 people in Pantay Matanda, who previously drank and washed with untreated water, a practice that caused disease and even death, especially among children.
This project was the third one funded by Watts for the Planet Water Foundation. We look forward to sponsoring other projects with Planet Water in the future, in keeping with our mission of improving comfort, safety, and quality of life for people around the world through our expertise in a wide range of water technologies.